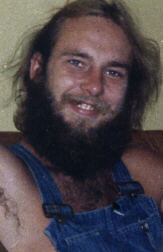 NAME: Michael (Myke) Bentley

CLASSIFICATION: Missing Adult

FROM: Oahu, Hawaii

SEX / RACE: Male / Caucasian

D.O.B: 04-05-56

AGE: 47 (Photo taken in 1975)

EYES: Blue

HAIR: Blonde

HEIGHT: 5'10"

WEIGHT: 170-190

JEWELRY: May be wearing an earring and/or necklace
CIRCUMSTANCE: Mike (Myke) was last seen on the island of Oahu, Hawaii, in Waikiki in/or around 1979-1981. He was employed as a Pedicab (Rickshaw) driver, company unknown.
Mike would be 47 years of age today and may be balding and/or beardless. In his very last correspondence he mentioned he'd sometimes frequent a Hare Krisna sect in the area for "food" and to "pick up on the vibes." He also mentioned that he liked to run around certain beaches, "bare-assed naked." Mike is an extremely free-spirited individual, open and idealistic, with a very warm and friendly disposistion. Witty, creative, fun, and very unselfish, some have said that if you meet Mike once you'll remember him forever.
However, Mike also had a deep reverance for drugs and alcohol, which leads his family to believe he may be incapacitated to some degree, perhaps even hospitalized or institutionalized, God forbid. Foul play is also feared.
Any information to his whereabouts and/or condition would be greatly appreciated by his remaining family members and friends. We pray for your help. Thank you.

Scott Bentley (414)771-1613, (414)771-8190, (414)744-1716, (414)761-1338. email:madbentley@toontracker.com
Finger prints and F.B.I. classification numbers upon request.