Center for the easily amused
Endless amusements including all the
dancing .gif's, silly things, jokes, games,
and of course comics.
 


AstroNerdBoy is a fun website devoted
to syndicated comics strips as well as web
strips, plus lot's of related stuff including advice.
 

Falling Dream is a web-only single
panel comic that is always funny, lot's of good links, too.
 


Gridlock is a comic strip written by a professional
writer and drawn by an editorial cartoonist,
both timely and funny.
(it's what Bentley and Martens only dream of becoming)
ONLINE COMIX
Online Comix is just that, with a simple rating
system that gives a star to their favorites, of which we are one!


Spumco is a must see website, real professional cartoons,
many of which employ the magic of animation.
L.O.P.O.W.
List of potentially offensive web comics
We are the mildest strip on this site, so beware!
vulgarity and scatalogical humor awaits.


Toonzone Interactive cartoon parodies
of Star Wars and Star Trek, plus a host of other cartoon stuff.
 


Toonscape Formerly MyComix.
A real comics community, engines, galleries, history,
artists samples, jobs, etc.
 


FLEEN- Fairly large electronic entertainment network.
This is a comics website with featured strips and extensive links.
 


DMOZ- Open Directory Project A unique web directory
that organizes itself by using volunteer category
editors, you could be one of them!
 


Three River Tech Review Incredible listing of current
Tech related articles, well organized,and they even
have comics links!


Big Panda Comics A unique site with hundreds
of strips and a system of "voting" where we get points
when you click on any strip in the list, go take a look!


Comicazee Alternative Comics Online comics site with
creator information and a very interesting shopping
experience. Home of the famous "Dykes to watch out for".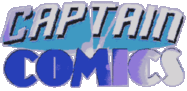 Captain Comics Andrew Smith is the Captain, and a syndicated
columnist with Scripps-Howard News Service covering
superheros, comics and related industries. The Captain has a
great website full of past articles and extensive resources in comics.
 

Stu's Comic Strip Connection Stu has nearly every comic strip known
to man listed here, plus tons of related resources and how-to's.
 

The Skrause Haus International Skrause has a great strip called
"Goobers" featuring Monty Blanc and other outrageous
characters, read them all.
 


You Damn Kid Owen Dunne creates one
of the funniest weekly strips we've ever
seen, a comic strip for grown-ups about being a kid.
 

Clan of the Cats Jamie creates a beautiful daily strip,
even her site entrance is work of art. Follow Chelsea
(who is a witch) through her interesting life. Lots to look at here.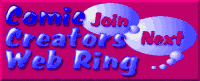 Click for the [ Next Page | Previous | Next 5 | Random]
Want to join the ring? Click here for info


Red Meat Spend some time here,
it's like no other cartoon.
 


Bizarro Dan Piraro has defined
"Bizarre" by his hilarious cartoon.
 

The Door The world's only religious satire magazine
Nobody can poke fun at Christians better than
these Christians.
 


Toon Tracker Ron Kurer is the Godfather
of the lost TV animated cartoons. The ultimate
source for finding the cartoons of your childhood.
 


The Onion Possibly the funniest
newspaper in the universe. It can
be a bit "R" rated at times.
 

Jonny Quest great fan homepage
for the TV favorite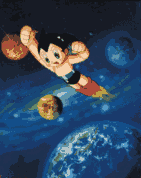 Astro Boy The original Anime comic
book and TV show soon to be a film.

Monkey Business Beautifully drawn
and oddly funny children's books.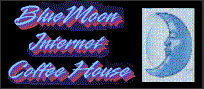 Blue Moon Cafe Our friends here are
linked to "Cyber Cafe's" all over the
world, great for travellers.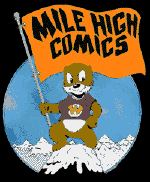 Mile High Comics The greatest
comics store in the world.
Shop right from your PC.